Macq: Mass 24th of September / Messe du Dimanche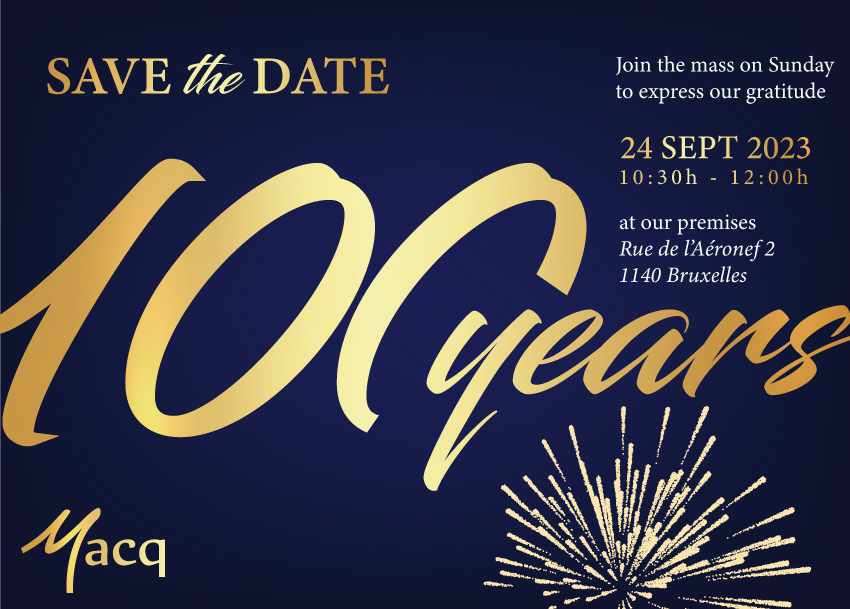 Join us for the mass (One registration per person please)
FR
Vous avez peut-être l'impression, comme nous, que la belle aventure Macq l'est d'autant plus qu'elle nous dépasse. Elle est bien plus que la simple somme de nos personnalités. Elle est entre les mains bienveillantes de nos divinités, d'Allah, de Dieu, et de tous les autres ? Comme vous le souhaitez. Vous et vos proches êtes invités à vous joindre à nous le dimanche 24 septembre à 10h30 pour une messe d'action de grâce pour tout ce que nous avons reçu et pour toutes les merveilleuses choses que nous avons vécues au fil des ans. Vous êtes tous invités, alors n'hésitez pas à vous inscrire à l'événement si vous souhaitez y participer. La messe durera entre une et deux heures environ.
NL

Misschien heb je, net als wij, het gevoel dat het grote Macq avontuur veel groter is dan ieder van ons. Het is veel meer dan de simpele som van onze persoonlijkheden. Het ligt in de vriendelijke handen van onze godheden, Allah, God, en alle anderen? Zoals je wenst. Jij en je dierbaren zijn uitgenodigd om op zondag 24 september om 10.30 uur samen met ons een mis van dankbaarheid te houden voor alles wat we hebben ontvangen en voor alle prachtige dingen die we in de loop der jaren hebben meegemaakt. Jullie zijn allemaal uitgenodigd, dus schrijf je in als je erbij wilt zijn. De mis zal ongeveer één tot twee uur duren.

​EN

You may feel, as we do, that the great Macq adventure is that much bigger than any of us. It is much more than the simple sum of our personalities. It is in the kind hands of our divinities, Allah, God, and all the others? As you wish. You and your loved ones are invited to join us on Sunday 24 September at 10.30 a.m. for a mass of gratitude for all that we have received and for all the wonderful things we have experienced over the years. You're all invited, so please register for the event if you'd like to attend. The mass will last approximately one to two hours.